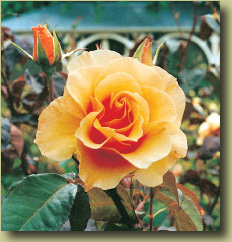 Photo by Suzanne Parker.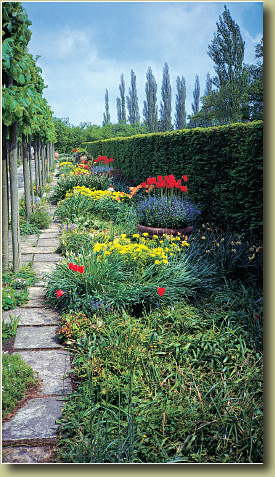 Sissinghurst Castle Garden. Photo by Paul Coopersmith.
Dear Garden Enthusiast,
Welcome to COOPERSMITH'S, North America's oldest and most trusted garden tour company. I'm very pleased to announce a great lineup of exciting new tours for 2016, along with some perennial favorites.
By popular demand, we've put together a Luxury Edition tour in mid-May of the Channel Islands, those romantic, picturesque isles located off the coast of Brittany. Belonging neither to England nor France, the islands of Jersey, Guernsey, and Sark—plus several other islets—have a remarkable history of human habitation stretching back nearly 250,000 years. Enveloped by the Gulf Stream, they enjoy mild weather the year-round, allowing for a tremendous diversity of plant life over a total area of less than 80 square miles. Nor surprisingly, the Islands are home to a number of memorable gardens, along with intriguing remnants of the German Occupation during the Second World War. Channel Islanders like to say that, in addition to their pristine sandy beaches, they enjoy the best of both worlds: speaking like the English, eating like the French.
A little later in the Spring, we'll venture up to North Wales & Herefordshire. The former, known for its spectacular castles and manor houses, also boasts several world-class gardens, among them Bodnant, Erddig, and Powis Castle Gardens. Herefordshire, a primarily rural county northwest of London, is a quiet corner that few North Americans think of visiting. But the rewards for going there are plentiful, among them some of the best private gardens in Britain, and an 11th-century cathedral noteworthy for its Mappa Mundi, the largest and most treasured medieval world map in existence. The accommodations and meals on this tour, as on the Channel Islands, will be nothing short of outstanding.
Dovetailing with North Wales & Herefordshire is our first Loire Valley tour in a decade. On this go-round, we'll be dividing up our time between Tours, the picturesque capital of the Loire region, and Veigne, where we'll savor three nights at Domaine de la Tortiniere, a fairy-tale castle overlooking the Indre River. Other chateaux on our itinerary include Chambord, known as the "Versailles of the Loire Valley;" Chenonceau, erstwhile residence of Catherine de Medici and Diane de Poitiers; and Villandry, with its splendid, painstakingly recreated 16th-century gardens and sublime collection of Spanish Old Master paintings.
As for the trips that we'll be bringing back for encore performances, Wessex & the Isle of Wight features a four-night stay at 17th-century Plumber Manor, one of England's finest country house hotels, which has been in the Prideaux-Brune family for four centuries. We'll be dazzled by Bath's fascinating Museum of Costume; luxuriate in Queen Victoria's Osborne House; and thrill to a number of magnificent gardens at their peak of summer beauty. On Springtime in the Cotswolds, where all seven nights are spent at the Hine family's award-winning Corse Lawn House Hotel, we'll have ample time in world-famous gardens such as Hidcote Manor and Kiftsgate Court, along with the Malvern Spring Gardening Show, an event that many of our clients have compared favorably to the Chelsea Flower Show. Our longest-running tour, the Cotswolds has sold out nearly every year since 2008. And finally, Springtime in New Zealand, scheduled for early October, takes us to three different regions of the country, one on the North Island, two on the South Island, giving us a good introduction to this breathtakingly beautiful South Pacific island nation, and the warm and welcoming people who live there.
Come join us in 2016. And see for yourself what makes our tours truly One-of-a-Kind!
Happy travels,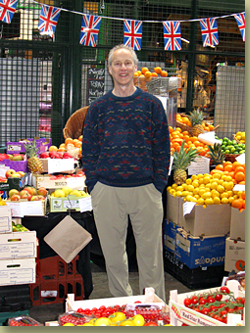 Paul at Borough Market, London. Borough has become one of the largest and finest open-air food markets in all of Europe. Photo by Suzanne Parker.
"Exceptional private tours, [by] a luxury garden tour specialist..."
— Martha Stewart Weddings
"A company that specializes in small groups [where members] are often taken to private gardens rarely seen..."
— The New York Times
"My wife recently had the good fortune to meet and speak with [famous English horticulturalist] Penelope Hobhouse, who recommended your garden tour as one of the two best in Europe..."
— Collier Espy, Jr., Dothan, Alabama