Frequently Asked Questions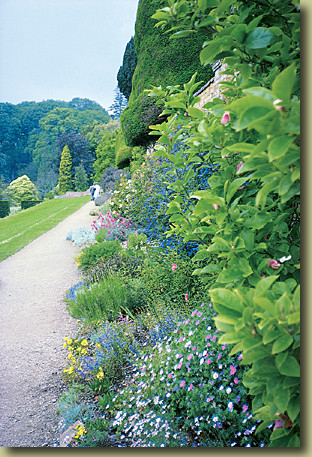 Powys Castle, Wales. Photo by Paul Coopersmith
Q.Who goes on your trips?
A. COOPERSMITH'S clients come from all over North America—with a few from Europe and elsewhere. Ages typically range from thirties to around eighty, with an average age of around sixty-five. Though some of our clients are professionals in the landscaping/gardening fields, most come from a variety of vocational backgrounds. Approximately one-third to one-half the members of any given tour are "solo travelers." And while women invariably outnumber men, we have noticed a marked increase in male travelers in recent years.
Q. I'm used to going places on my own. Why go on a COOPERSMITH'S tour?
A. To begin with we'll save you a considerable amount of time and effort, before and during the tour, by doing all the research and legwork ourselves. All you need to do is show up each morning—we'll take care of the rest. We make use of the best hotels, country inns and restaurants. Our drivers know the most interesting and scenic routes. Our experience and the many contacts we have made over the years enable us to gain entrance into gardens and stately homes that rarely, if ever, open to the public. Our tour leaders help you understand and appreciate the sights, culture, history and people. And your fellow tour members, often with many of the same interests as your own, provide the sort of companionship that will enrich and enliven your journey.
Q. What is a typical day like on one of your garden tours or fine arts tours?
A. After a leisurely breakfast, we board the motorcoach at 9 or 9.30. We then proceed to visit two or three gardens, stately homes and/or museums, with lunch in a village pub, cafe or garden restaurant, before returning to the hotel around 5. Some evenings we dine as a group, sitting at tables of four or five, in our hotel dining room or at a nearby gourmet restaurant. Every two or three days, we have a free evening: a chance for tour members to choose their own restaurant, or simply enjoy a quiet evening "at home."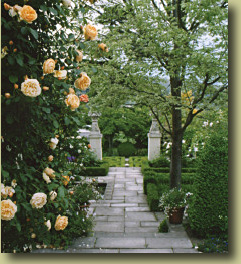 Bloomfield House, Christchurch, New Zealand. Photo by Suzanne Parker
Q. Is there any free time during the day?

A. On most tours we schedule one or two half days of free time. Those members who wish to have more time off can easily arrange it, given that our average hotel-stay is three or four nights. Just let your tour escort know the night before that you'll be on your own the following day. (And of course he or she will be happy to help you rent a car, find out what's on at the local theater, suggest a scenic walk, cozy village pub, or some special off-the-beaten-path attraction.)
Q. Who leads your tours?
A. Our British, Japanese and New Zealand excursions are led by tour escorts native to those countries; our Continental trips by either British or European tour leaders who have lived and worked in that particular country. Our guides are not horticulturists, per se, though they are well acquainted with the gardens to be visited. More importantly, they have a broad knowledge of each country and its people, history, culture and fine arts, plus many years' experience leading upscale, special-interest tours.
Why COOPERSMITH'S?

We have been specializing in garden and manor house tours of the British Isles, Europe, New Zealand & Japan since 1984—considerably longer than any other North American-based company.


All our tour leaders typically have at least ten years' experience in the field. Most are native to the countries in which they lead. All are extremely knowledgeable and resourceful, and are a pleasure to travel with.


We use only the finest manor house hotels and historic country inns. Our accommodations include Cragwood Country House Hotel in Windermere, which consistently rates among TripAdvisor.com's top three hotels in the entire Lake District; and The Royal Hotel on the Isle of Wight, one of only thirty establishments to appear in every Michelin Guide since it was first published in 1911.
Q. I will be joining the tour as a "solo" member. Why do I have to pay a "single supplement"?
A. The main reason why tour companies charge "single supplements" is that most hotel prices are on a per room, rather than per person, basis. So even though you're just one person, using one pair of sheets and towels, and having just one breakfast, per day, we may have to pay nearly as much for your accommodations as we would for two people sharing a room.
One way in which our tours differ from most others is that many of the rooms we obtain for single occupancy are full size double rooms, oftentimes with a queen- or king-size bed, and lots of space to move around in. One might expect this in most American hotels; but in Britain and the Continent, single occupancy rooms are often not much larger than walk-in closets!
An alternative to paying the single supplement is sharing a room with another tour member. If you are open to this idea, we will strive to pair you with an appropriate fellow traveler.
Q. I've found other garden tours that cost less than COOPERSMITH'S. Why do yours cost more?
A. While it's true that some of our tours are priced higher than the average, we believe—-and have been told repeatedly by our clients—-that we offer excellent value for money.
As mentioned above, our groups stay at world-class country inns and stately homes, while dining at topnotch hotels and gourmet restaurants. We routinely use motorcoaches that are large enough to guarantee each tour member a window seat, if he or she so chooses. When we visit an estate where separate fees are charged for entrance into the house and the garden, you get to visit both, rather than just one or the other. Our tour leaders—-the best in the business—-are encouraged to add in extra visits, when time permits, to gardens, stately homes, museums, etc., at no extra cost to tour members.
Above all, when you travel with COOPERSMITH'S you know you're in the best of hands—-being looked after by a family-owned company established in 1984, committed to the enjoyment, comfort, and safety of its clients, and recognized internationally as a leader in its field.