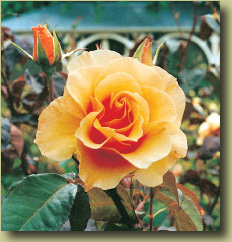 Photo by Suzanne Parker.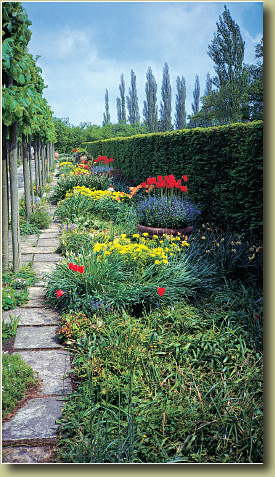 Sissinghurst Castle Garden. Photo by Paul Coopersmith.
Welcome to COOPERSMITH'S Garden Tours
Dear Garden Enthusiast,
Welcome to Coopersmith's, North America's oldest and most trusted international garden tour company.
As we gear up for another tour season—our 34th year in the business— I've taken some time to peruse four decades' worth of catalogs and feedback forms, along with reviews and recommendations we've received in newspapers, magazines, and on the Web. As it happens, whether I'm looking at the 1980's, 1990's, 2000's, or this current decade, there is one thing that stands out above all else: how gratifyingly synergistic the process of crafting small-group, high quality garden tours has been.
When I co-founded the company back in 1983, I saw a need for a different kind of experience than what was then being offered (e.g., "If it's Tuesday, this must be Belgium"). My goal—to organize trips that included all the following elements:
Relaxed pace

Limited to one or two regions of a single country

Focused on two or three related themes, such as gardens and stately homes

Based at historic, atmospheric manor house hotels and country inns, with several nights at each location

Never more than twenty participants

Led by professional, world-class tour managers, with at least ten years' experience in the field
In short, a stress-free sojourn for a small group of people who love gardens, art, and architecture, with all the advantages of independent travel, minus the work, the worry, and the inevitable hassles.
As people began to discover and embrace our unique style, word spread. Before long, we had a loyal clientele that toured with us, year in and year out—many of them making new friends with whom they traveled on subsequent COOPERSMITH'S trips.
Nowadays, upwards of 70% of our tour members in any given year are repeat clients. A good number have traveled with us on as many as ten, twenty, or even twenty-five occasions. Oftentimes these folks have a suggestion or two as to how we can make our One-of-a-Kind Tours® even better; and over time, we've incorporated the best of these ideas into our our itineraries, policies, and procedures. I am a firm believer that even the most successful tours nearly always have room for improvement.
That process continues to this day. Responding to suggestions from numerous clients, we've fashioned an eight-night gardens, art, and châteaux tour for 2018, Springtime in Provence, that takes in the highlights of that romantic region at a glorious time of year. Summer in Holland, in addition to featuring some exquisite private gardens, includes expert-led visits to several of that country's world-famous museums. On Lincolnshire & Shropshire, we showcase two of Middle England's most horticulturally noteworthy, off-the-beaten-path counties. Back by popular demand are two "Unpack Only Once" tours, Springtime in Cornwall and Springtime in the Lake District. We'll savor seven nights each at the same wonderful country house hotels, the former boasting a spa and nine-hole golf course, the latter with twenty acres of secluded gardens and verdant woodlands, on the shores of picturesque Lake Windermere. Both properties feature award-winning gourmet restaurants, of which we'll be taking full advantage.
As we look ahead to 2018, I'm confident you'll find our trips even more appealing than ever. It's going to be another exciting and inspiring year at COOPERSMITH'S. I very much hope you'll be a part of it!
Happy travels,
PLEASE NOTE: As of early November, two of our five 2018 tours were already sold out and being wait-listed, while the others had only one or two rooms left. To avoid disappointment, I urge you to make your bookings as soon as possible.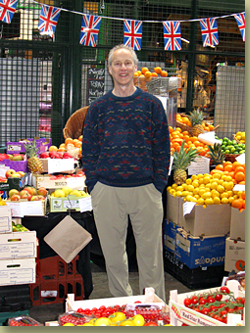 Paul at Borough Market, London. Borough has become one of the largest and finest open-air food markets in all of Europe. Photo by Suzanne Parker.
"Exceptional private tours, [by] a luxury garden tour specialist..."
— Martha Stewart Weddings
"A company that specializes in small groups [where members] are often taken to private gardens rarely seen..."
— The New York Times
"My wife recently had the good fortune to meet and speak with [famous English horticulturalist] Penelope Hobhouse, who recommended your garden tour as one of the two best in Europe..."
— Collier Espy, Jr., Dothan, Alabama