COOPERSMITH'S Style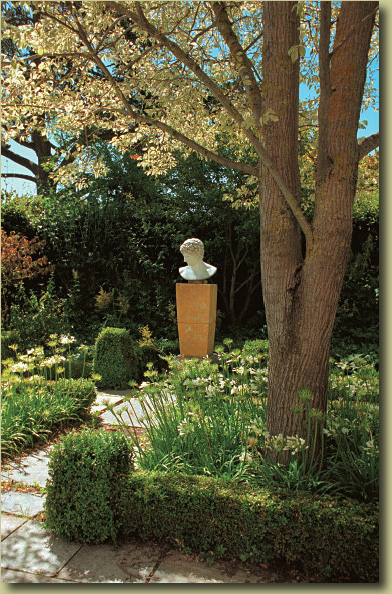 Bloomfield House, Christchurch, New Zealand. Photo by Suzanne Parker
COOPERSMITH'S garden and fine arts tours are upscale without being ostentatious, energetic without being exhausting, illuminating without being academic. Here are some distinguishing features of our trips that attract discerning travelers of all ages, inspiring many of them to return year after year:
"Gardens Plus." Among our 2017 offerings are a tour that features Queen Victoria's favorite residence, Bath's fascinating Museum of Costume, and Sir Walter Raleigh's 16th-century castle (Wessex & the Isle of Wight); a tour that visits the world-famous pre-historic caves at Lascaux and the one-of- a-kind Cité du Vin museum of wine (Bordeaux & the Dordogne); and one that takes in the Copeland China Collection, Tate Gallery St. Ives and Barbara Hepworth Museum & Sculpture Garden (Springtime in Cornwall). On Northumberland & North Yorkshire, in addition to visiting a number of smaller, private gardens that seldom open to the public, we'll gaze in awe at Alnwick Castle, the stunning, monumental location for the final episode of Downton Abbey, that was also used as "Hogwarts" in the Harry Potter films; and thrill to the magnificence of Castle Howard, the palatial manor house that served as the backdrop for the 1980's ITV/Masterpiece Theatre extravaganza, Brideshead Revisited.
Small groups. A maximum of 16-18 people per tour, depending on the tour. Unlike virtually all of our competitors, we are able to operate most tours with as few as 5 or 6 participants..
Three-, four-, and seven-night stays at charming country inns, elegant manor houses, and distinguished city-center hotels. Luxurious, 14th-century Langley Castle Hotel in Hexham (Northumberland & North Yorkshire) has been awarded "Best Small Hotel in the Northeast of England" five times in recent years. In Sturminster Newton, Dorset, Plumber Manor Country House Hotel, a Jacobean mansion that has been in the same family for over four centuries, is known far and wide for its bucolic setting, colorful gardens, and gourmet cuisine. In one case, an entire seven-night tour (offered twice) is based at the same delightful stately home: Cragwood Country House Hotel in England's romantic Lake District, recipient of TripAdvisor's coveted "Certificate of Excellence" (Springtime in the Lake District). On a second tour, Springtime in Cornwall, all seven nights are spent at Budock Vean, another rural four-star hotel and "Certificate of Excellence" recipient, in this case with full spa and its own 9-hole golf course.).
Large comfortable motorcoach. Unlike other tour companies, we routinely use motorcoaches that are large enough to guarantee each passenger a window seat throughout the tour.
Gourmet meals. Yes, even in—and these days, some would say especially in—Great Britain!
Relaxed pace. If you are looking for an "If it's Tuesday, it must be Belgium" type tour, we are decidedly not it. Instead, our tours are crafted in a way that enables you to savor, and remember, each day (see "What is a typical day like" in Frequently Asked Questions).
Topnotch tour leaders. This is what makes a good tour great. Our guides, who have lived and worked in the countries concerned, and have a minimum of ten years' experience in the field, are among the most knowledgeable and creative tour leaders anywhere! (See "Who leads your tours" in Frequently Asked Questions).